The featured article below is a sample from a blog we are well pleased to have found because it provides intelligent and easy-to-understand analyses of the climate change psyop with which the globalist crime syndicate are attempting to gaslight the public into cowed acquiescence in the face of the with the inept mismanaged mess they have made of the global  economy.
Nobody is arguing against sensible and conscientious husbandry of our planet but in the climate of hysteria and panic cultivated by the architects of the Climate psyop, with outright misinformation masquerading as "science", rational solutions to actual problems ain't gonna happen.
Please check out the Real Climate Science blog and enjoy its many very fine articles.
The Five Top Arguments Against Climate Alarmism
Scott Adams asked me to put together the five best arguments against climate alarmism. This involves a huge amount of information, and fortunately Scott gave me more than six minutes to do it.
I have been summarizing the arguments in a series of blog posts over the past couple of weeks.  The details are primarily in the links provided below.
1. Climate alarmism is based mainly around fear of extreme weather. This concept is deeply rooted in human nature, and has its roots in ancient stories of giant floods, famines and plagues – caused (of course) by man's sins. Climate alarmists are tapping into that primal fear, and pushing the same idea of extreme weather and floods caused  by mankind's carbon sins.
The reality is that there is no legitimate evidence extreme weather is increasing or sea level rise is accelerating. The fears are baseless.
Hiding The Decline In Extreme Weather | The Deplorable Climate Science Blog
2. Climate alarmism is much like the story of the Emperor's New Clothes. People may not see any evidence of catastrophic climate change or sea level rise, but their opinion is irrelevant because 97% of scientists believe we are doomed due to global warming. Only a small handful of people whom the press and politicians quote over and over again are allowed to state an opinion, and they are claimed to represent 97% of the world's millions of scientists.
Whenever you hear the consensus of scientists agrees on something or other, reach for your wallet, because you're being had.

– Michael Crichton
Obama's claims are baseless, yet politicians want to prosecute climate heretics.
There has never been any survey done of actual scientists which showed anything remotely like Obama's claims. Obama made his claim in 2013, but a survey of professional members of the American Meteorological Society made that year, showed that only 52% of their members believed global warming is primarily man-made – much less dangerous. (I am not aware of any broad survey of scientists where they were even asked if the one part per ten thousand increase in CO2 over the past century is dangerous.)  No group in the AMS survey came close to 97%, and among professional forecasters – less than half believed global warming is primarily man-made.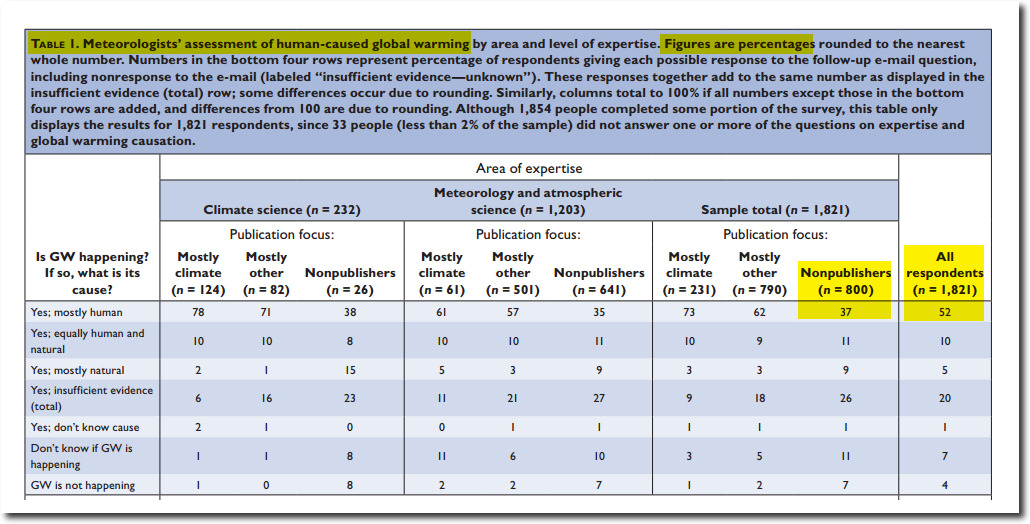 http://journals.ametsoc.org/doi/pdf/10.1175/BAMS-D-13-00091.1
What little consensus there is, is based around intimidation of academics and censorship, as I detail in this video.
3.  Academics have been making apocalyptic predictions for decades.  All have failed miserably, yet they keep repeating the same misinformation over and over again.  Had their forecasts been correct, we wouldn't be here now to have this discussion.
Fifty Years Of Failed Apocalyptic Forecasts
4. Climate alarmism is completely dependent on graphs and useless climate models generated by a small handful of people.  The graphs are generated through scientifically corrupt processes of data tampering and hiding data.
A large amount of detail is provided in the blog posts below.
61% Fake Data 
Overwhelming Evidence Of Collusion
Extreme Fraud In The National Climate Assessment
Extreme Wildfire Fraud In The National Climate Assessment
Doubling The Hockey Stick Fraud
Fraud In The National Climate Assessment (Part 1)
Fraud In The National Climate Assessment (Part 2) 
And climate models have shown zero skill, when compared against reliable tropospheric temperatures.
Failed Climate Models | The Deplorable Climate Science Blog
5.  The most important argument against climate alarmism is that the proposed solutions are unworkable, dangerous and useless. They were made without consulting engineers, and have zero chance of success.  A robust discussion about our energy future is needed, but that discussion is censored in favor of propaganda.
The Malicious Intent Behind Climate Alarmism
We need to have a serious discussion about our energy future, but news agencies like the New York Times and the LA Times have an openly stated policy of censoring anyone with a dissenting opinion.  This is dangerous, un-American and threatens our survival.  Climate change is not an imminent threat, but the proposed solutions are.
If there was an actual climate crisis, it would be obvious.  Alarmists wouldn't have to hide and tamper with data.
---
Visit People's Media at Liberty Rising
---

••••
The Liberty Beacon Project is now expanding at a near exponential rate, and for this we are grateful and excited! But we must also be practical. For 7 years we have not asked for any donations, and have built this project with our own funds as we grew. We are now experiencing ever increasing growing pains due to the large number of websites and projects we represent. So we have just installed donation buttons on our websites and ask that you consider this when you visit them. Nothing is too small. We thank you for all your support and your considerations … (TLB)
••••
Comment Policy: As a privately owned web site, we reserve the right to remove comments that contain spam, advertising, vulgarity, threats of violence, racism, or personal/abusive attacks on other users. This also applies to trolling, the use of more than one alias, or just intentional mischief. Enforcement of this policy is at the discretion of this websites administrators. Repeat offenders may be blocked or permanently banned without prior warning.
••••
Disclaimer: TLB websites contain copyrighted material the use of which has not always been specifically authorized by the copyright owner. We are making such material available to our readers under the provisions of "fair use" in an effort to advance a better understanding of political, health, economic and social issues. The material on this site is distributed without profit to those who have expressed a prior interest in receiving it for research and educational purposes. If you wish to use copyrighted material for purposes other than "fair use" you must request permission from the copyright owner.
••••
Disclaimer: The information and opinions shared are for informational purposes only including, but not limited to, text, graphics, images and other material are not intended as medical advice or instruction. Nothing mentioned is intended to be a substitute for professional medical advice, diagnosis or treatment.